Something big is going on today.
Really big.
Really really big.
Really really really really big.
Really reall- All right, I think you already know what I'm going to say. ;)
Harry Potter and the Deathly Hallows!!!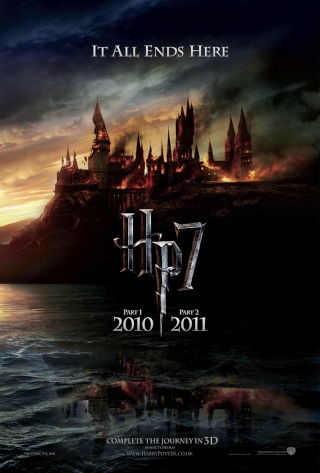 Yes, I know that everyone already watched at midnight 17 hours ago, but my family and I (and a couple of friends) are going in just 1 hour and 28 minutes.
I'm a mix of nostalgia, happiness, sadness, and EXCITEMENT right now. I just can't believe that it's it's ending. Like, really ending. NINE years ago, when I was tiny at the age of 7, I went to the movie theater with my family to watch Sorcerer's Stone, because my brother and I (and my dad, I have to admit), really really liked one trailer
. I completely adored it and fell IN LOVE with EVERYTHING- the characters (Harry, Ron, Hermione, Malfoy, Neville!!!), Hogwarts, the teachers, Hagrid, Fluffy, so yes, everything.
And then I got the book for Christmas.
And...it basically changed my life.
So, I totally had life changing moments and life changing people, but if I ever had to pick a life changing book, it would be Harry Potter. It was my childhood. And it created so many memories that I'll never forget.
And it was all because of the movie (or the movie trailer). (Yes, I watched the movie before I read the book. :D) The past few days have been filled with the same excitement I've felt when Deathly Hallows came out. A couple of my friends and other students in my school wrote "The Chamber of Secrets Has Been Opened" on our basement wall, with fake blood...and teacher permission of course. ;) Last night I made brownies to celebrate with my friends at lunch today.
(Notice the scars I carved onto the brownies at the last minute? Hehe. :P)
Now, before I start getting all weepy and stuff (I can feel the tears coming on and I have to save them for the movie), I'm just going to say that Harry Potter is made of awesomeness and...I'm really really really really really really excited. (Hehe, I think you really get my point now, right?)
Have a Happy HP & the Deathly Hallow release day!
Oh yes, here's the Sorcerer's Stone trailer! (So many memories are suddenly jumping in my head now.)
Now I'm off to go to the theaters!